2021 Annual Conference Expo Information
Questions, Comments, or Concerns? Contact Alexis Sivcovich at (314) 640-4886.
Thank you for participating in the 2021 Annual Conference Expo! We are expecting a huge turnout in Marco Island this summer and we're glad you'll be joining us!
GENERAL INFORMATION:
The Expo will kick off with a reception on Monday, July 12 from 5:00 PM - 7:00 PM followed by dinner on your own. The Expo will resume with another evening reception on Tuesday, July 13 from 5:00 PM - 7:00 PM, followed by a conference-wide Sunset Dinner in Calusa Ballroom 1-6.
Location: Calusa Ballroom 7-12
Set-Up: Monday, July 12 from 10:00 AM - 3:00 PM. All exhibit space will include an 8ft. x 30in. table, two chairs and a waste basket.
Tear-Down: Tuesday, July 13 immediately following the close of the expo at 7:00 PM.
Note: All exhibits must be torn down the night of the 13th. The Sunset Dinner will be in the ballroom directly next door to the expo, and you are welcome to eat prior to dismantling your table.


SHIPPING INFORMATION:
All packages to the hotel should be labeled as follows:
Hold for Guest: (Guest/Attendee Name) (Guest/Attendee Cell Number)
c/o FedEx Office at JW Marriott Marco Island
400 South Collier Blvd.
Marco ISland, FL 34145
Southeastern Lumber Manufacturers Association
*if you are not staying at the JW Marriott, you may address your packages to Alexis Sivcovich*
Click here for detailed shipping instructions and package handling fees.


EXPO LAYOUT (UPDATED 06-23-2021):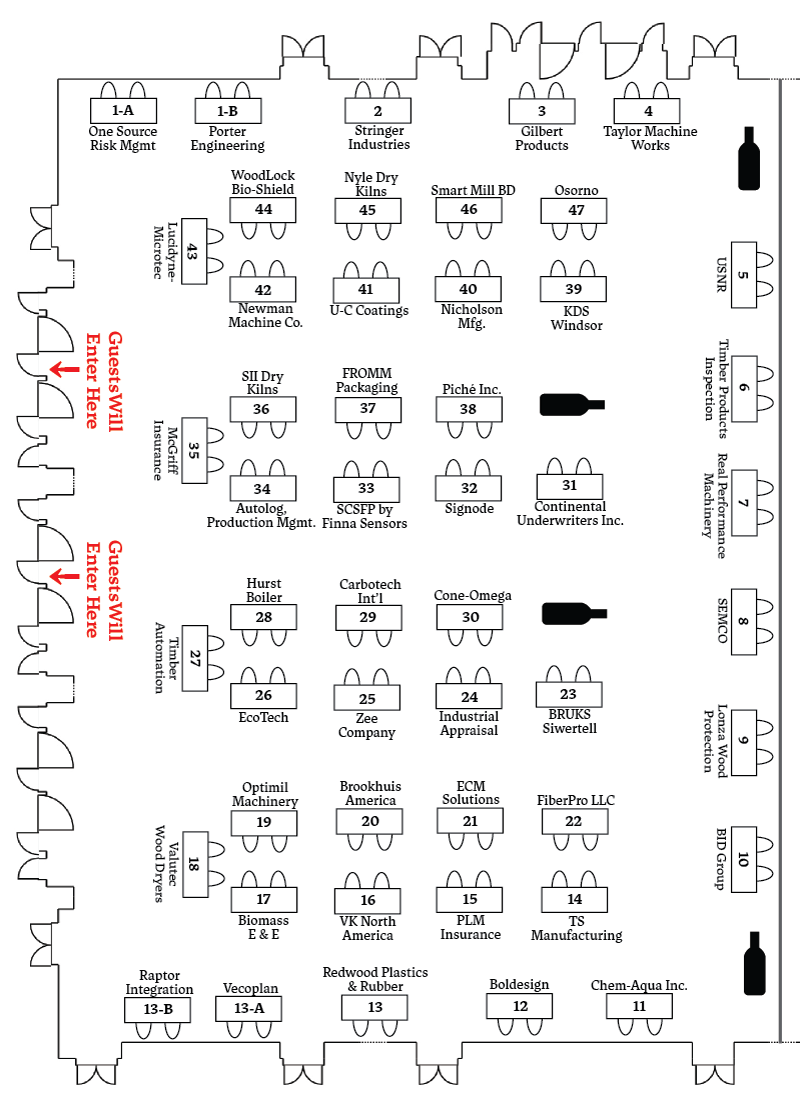 Click here to download a PDF version of the layout and listing.
Please contact Alexis Sivcovich at alexis@slma.org or (314) 640-4886 with any questions.