2020 SLMA & SFPA Spring Expo Information
Please Contact Alexis Sivcovich at alexis@slma.org with any questions!
The Spring Expo will be held in the Royal Ballroom on the lobby level of the Hotel Moneleone. Exhibit table space consists of one 6' draped table with two chairs. The entire exhibit area is carpeted. Standard electrical power is avalible through permimeter wall outlets. If you need power, it is recommeded to bring an extension cord and safety tape.
Internet is also included with the purchase of your exhibit space!
| | |
| --- | --- |
| EXHIBIT TIMES: | Thursday, March 26 from 5:00 PM - 7:30 PM |
| | |
| SET-UP: | Thursday, March 26 from 1:00 PM - 4:00 PM |
| TEAR-DOWN: | Immediately following close |
---
EXPO LAYOUT: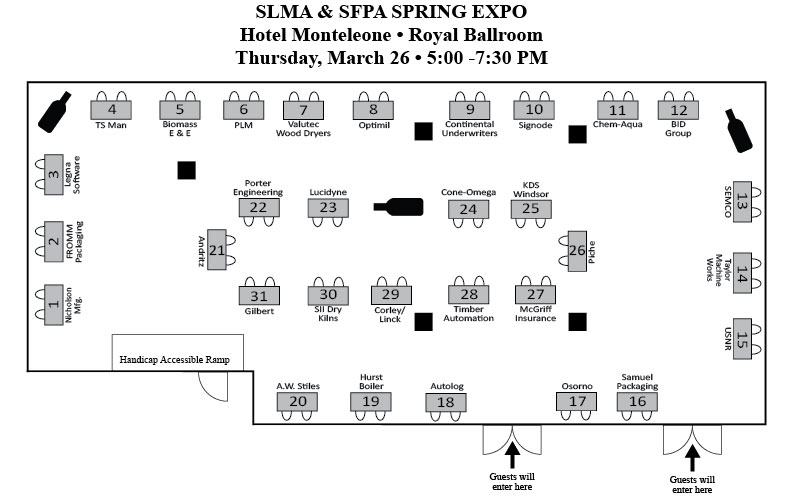 | | | |
| --- | --- | --- |
| 1. Nicholson Manufacturing | 12. BID Group | 23, Lucidyne Technologies |
| 2. FROMM Packaging Systems | 13. SEMCO | 24. Cone-Omega, LLC |
| 3. Legna Software | 14. Taylor Machine Works | 25. KDS Windsor |
| 4. TS Manufacturing | 15. USNR | 26. Piche |
| 5. Biomass Engineering & Equipment | 16. Samuel Packaging Systems | 27. McGriff Insurance Services |
| 6. Pennsylvania Lumbermens Mutual | 17. Osorno | 28. Timber Automation |
| 7. Valutec Wood Dryers | 18. Autolog, Production Management | 29. Corley Manufacturing/Linck |
| 8. Optimil Machinery | 19. Hurst Boiler | 30. SII Dry Kilns |
| 9, Continental Underwriters | 20. A.W. Stiles Contractors | 31. Gilbert Products |
| 10. Signode Packaging Systems | 21. ANDRITZ | |
| 11. Chem-Aqua | 22. Porter Engineering | |
---
SHIPPING INFORMATION:
Hotel Monteleone
214 Royal Street
New Orleans, LA 70130
ATTN: ALEXIS SIVCOVICH, SLMA
HOLD FOR: [COMPANY NAME]
Box(es) ________ of ________ (multiple boxes must be numbered)
Ph: (504) 523-3341
---
SLMA CONTACT:
For any questions regarding this year's spring meeting expo, please contact Alexis Sivcovich at any of the following:
Email: alexis@slma.org
Office: (770) 631-6704
Cell: (314) 640-4886